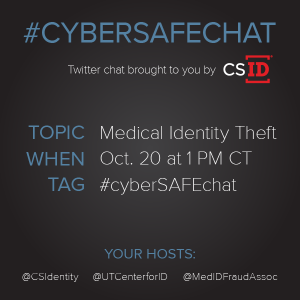 Medical identity theft is a growing risk for patients and the medical industry. Ponemon Research found that in 2012 and 2013, 90 percent of healthcare organizations exposed or lost patient data. The industry has seen more than 200 breach incidents in 2014 alone. And to top it all off, medical identity theft victims estimate the value of medical services stolen in their names at $29,464 per incident.
To help shed light on the increasing risks and consequences of medical identity theft, we are hosting another edition of #cyberSAFEchat. In this chat we will explore trends in health IT and tips businesses and consumers can utilize to protect themselves from medical identity theft and recover as quickly as possible if they become victims.
Join us Monday, October 20th at 1 PM CT with co-hosts Medical Identity Fraud Association (MIFA) and the UT Center for Identity. The hour-long Twitter chat will address the following key questions:
What is medical identity theft, how does it happen and why?
What impact does medical identity theft have on consumers and organizations? What happens to an identity once it is stolen?
Any examples of medical identity theft? How did it happen and how did it affect the victim?
How can consumers and organizations prevent and mitigate the impact of medical identity theft? What are some best practices?
To participate in this #cyberSAFEchat, all you need is a Twitter account. You can follow the hashtag #cyberSAFEchat on Monday, October 20th from 1 to 2 PM CT and tweet your questions and comments to the group by including #cyberSAFEchat in your tweets.
Be sure to connect with @CSIdentity, @MedIDFraudAssoc and @UTCenterForID on Twitter, and let us know if you plan on participating. See you there!