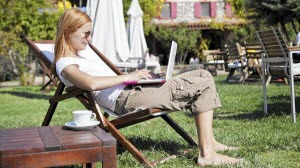 Summer vacation is a time to unwind. But remember, just because you're taking a break from work, it doesn't mean identity thieves are. In fact, cyber criminals and identity thieves are always looking for opportunities to strike while the iron is hot. These five rules will help you stay safe this summer (or whatever time of year you are traveling)!
Avoid using public computers.
Using a public computer may seem convenient, but it creates unnecessary risk. You never know what types of malicious software might be installed on a device. A report in the Chicago Tribune says risks include "key-logging software that saves your login details, security updates that are not installed, and no or out-of-date antivirus software." Just like when using an unsecured Wi-Fi hotspot, never access sensitive websites (like your bank account) while using a public computer.
Alert your card issuer about your travel plans.
This is a proactive step to safeguard your identity. Most card services have great systems in place to alert you to fraudulent purchases. Letting your provider know about your travel plans makes it easier to stop fraud if your wallet is lost or stolen.
Stay on top of your travel budget.
Typically, your spending increases during vacation. And, many find it harder to keep track of spending while they are traveling, where it can be easy to miss suspicious charges. Watch what you spend. Consumer Reports advises, "Check your statements frequently when you return from your trip and report any suspicious charges quickly."
Be smart about ATM use.
Skimmers, or malicious card reader devices, are becoming more and more advanced. Whenever possible, skip ATMs in tourist zones and visit a bank branch to make cash withdrawals. For more about what skimmers look like, check out the series on Krebs on Security.
Password protect your phone.
When your phone is lost or stolen, it's more than just a huge inconvenience. Smartphones provide access to sensitive PII and account information. A strong password will protect your data until it can be remotely wiped.
For more tips, check out our blog from last summer on this topic. Have any questions, or want to add to the discussion? Let us know on Facebook, Twitter or LinkedIn!