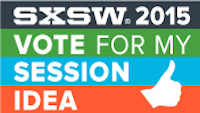 While it seems like South by Southwest Interactive 2014 was just yesterday, it's already time to start voting for the 2015 SXSW panels. This year, CSID is up for four panel sessions and we could use your support to get these topics chosen for next year's event.
How it works: check out the panel descriptions below. Vote for your favorites (or all) by clicking the thumbs up sign in the upper left-hand corner of the official Panel Picker page.
Take a look at what we'd like to talk about in 2015 and get your voting on!
Hacker to InfoSec Pro: New Rock Star Generation
Hackers today tend to be young, smart and on the hunt for power and financial gain. Many of them perceive hacking like being a rock star – they jump into the action and start reaping the rewards. But what if we could change the perception of hacking as a means to fame and glory and make information security, white hat hacking and working for the government the new platform for rock stardom? Join CSID's Kent Bloomstrand, Secret Service agent Ben Bass and attorney and computer security analyst Tiffany Rad for an interesting discussion on how we can make InfoSec and IT professions more appealing to young people, including hackers of all types. Read more and vote for Kent's panel.
Wi-Fi Privacy: When Sniffing becomes Snooping
Location-based marketing is a growing industry, but is it an ethical one? Today, companies have the ability to record and collect your daily activities based on signals emitted from Wi-Fi-enabled smartphones to better understand your habits. Using this Wi-Fi sniffing behavior, they can construct a profile of your favorite places, how long you typically stay and what time you generally visit to use for marketing purposes. During this session, CSID's Adam Tyler will explore the legal, ethical and privacy issues around this practice and teach you how to opt out. Read more and vote for Adam's talk.
Follow the Money: Cyber Crime and the Black Market
Our next panel explores what exactly happens when a cyber criminal steals your credit card number. Believe it or not, in a matter of hours, your stolen credit card number could have taken a trip to multiple countries before being sold on the Black Market. Award-winning investigative journalist Byron Acohido and CSID's Joel Lang will follow the lifecycle of a stolen credential to see how cyber crime truly is a global phenomenon and share how businesses and governments can better protect against global cyber crime. Read more and vote for Joel's panel.
Going All In: Placing Bets on Payment Security
Our final panel is on the hot topic of payment security. The U.S. is currently shifting from magnetic stripe to EMV chip cards and on the horizon for payment security is tokenization and point-to-point encryption. While these steps are headed toward better protecting retailers, issuers and consumers against potential fraud, what are the hurdles we'll face before widespread adoption occurs? Join Encap's Adam Dolby and CSID's Bryan Hjelm to learn more about the future of payment security by reading more and voting for their panel.
We'd love the chance to talk about these topics at SXSW, we encourage you to vote if you'd like to learn more about them too. Any questions or comments about voting or the panel topics? You can post in the SXSW Panel Picker comments section or get in touch with us via Twitter and Facebook. Voting ends September 5, so go ahead and place your votes!