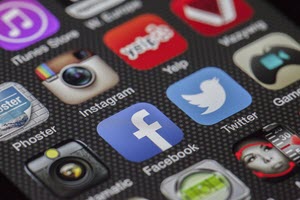 We recently celebrated Data Privacy Day, where industry leaders and experts shared security insights to help businesses and individuals protect themselves from cybercrime. Social media was a big focus throughout the day; in fact, Twitter celebrated by live streaming from its headquarters, hosting panels with some of the top minds in the industry. As social media continues to become more popular, there are new cybersecurity concerns to consider. Information that is shared on social media can be used to access other, more sensitive accounts – especially if that information is the answer to a password reset question, such as the name of a first pet or favorite teacher. Individuals and businesses alike can take basic precautions to minimize the risk of their information becoming compromised.
Social media networks are doing their part to keep their users' information secure. Facebook just announced its updated "Privacy Basics" tool, which makes it easier for people to find the tools that control how their information is shared on Facebook. Twitter also updated their safety policy at the end of last year, allowing users to mute or report abusive or hateful content, even allowing bystanders to step in to report questionable content.
While we love seeing social media platforms upping their security, the responsibility ultimately falls on the individual to check out the privacy settings offered across platforms and use caution when sharing information. Here are a few tips and best practices to consider:
Facebook offers a Privacy Checkup, which walks users through their settings. The checkup reviews who can see your posts, which apps you're using, and the privacy of critical pieces of information on your profile.
Turn on two-factor authentication. Many networks, including Facebook and Twitter, offer the option to have a security code sent to your phone whenever you log in from a new device. It's a quick, convenient extra measure of security.
If you go on vacation, it's tempting to share photos of your experiences as they happen. However, it's best to wait until you're back home to post. Otherwise, you're alerting a potential cyber criminal to the fact that you're away. An empty house is a much more attractive target for a thief.
While you're at it, it's worth turning off the geotagging feature of your networks. When you're posting, there's an option to share your location. Make sure that icon is unchecked, or people will know exactly where you are when you post. If you're at home, they now have your address. If you're out and about, they now know your home is unoccupied.
Keep your social media bios free of personally identifiable information. You can also remove the year from your birthday, and refrain from sharing other information like your mother's maiden name or high school mascot, since they often serve as password reset questions to your online accounts.
When your favorite social media app offers an update, do this as soon as possible. Many updates fix bugs and potential vulnerabilities, so it's worth taking the time to do it, even if it means waiting a few minutes before being able to log in.
What other tips do you have for staying secure on social media? Join the conversation on Facebook, Twitter, or LinkedIn.