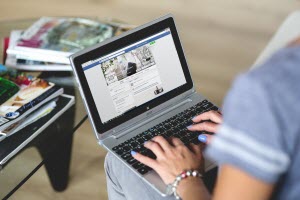 Each day our lives become increasingly connected to our friends and family around the world thanks in large part to social media.
As of September, Facebook now boasts 1.55 billion monthly active users across the globe. Instagram has more than 400 million monthly users. Our favorite 140-character site has just over 320 million monthly tweeters.
Billions of people create an almost unfathomable amount of data. By 2020, social data is expected to reach 44 zetabytes (or 44 trillion GB's), according to industry research firm IDC. With every post, check-in, like, swipe, and favorite, we are sharing our most precious information with the world. While many posts are harmless, individuals need to be aware of the types of things they are sharing on social media.
We recently tackled this topic on our first episode of Firewall Chats, titled "Social Media Matters." Credit cards and Social Security numbers aren't the only pieces of information that can lead to identity theft and fraud. Social media oversharing can have lasting consequences.
Inspired by the world's social tendencies and our commitment to protecting consumers, CSID is proud to debut a new service to assist social media users. Our Social Media Monitoring service alerts users to privacy and reputational risks on the most widely-used platforms: Facebook, Twitter, LinkedIn, and Instagram.
Cyber criminals can easily access sensitive information on social media. Even seemingly innocuous information found on social networking sites, like mother's maiden name and high school mascot, can be useful to fraudsters to gain access into your accounts. Just think, are these pieces of information used as your password reset questions? You may want to think twice next time you share this information on social media. That's where our Social Media Monitoring services comes in. This service alerts a user when they are sharing personal information on their social networks, whether it be in their profile info, comments, status updates, or wall posts.
Perhaps even more than our assets, social media poses a great threat to our reputations. Careless posts and comments have resulted in lost jobs, relationships, and opportunities. After all, 91 percent of hiring managers screen job applicants' social networking profiles during the hiring process. In addition to flagging privacy risks, Social Media Monitoring alerts users when their reputation may be at stake, identifying social media content containing foul language, sexual content, or drug and alcohol references.
To learn more about our Social Media Monitoring service and how to safeguard your consumers' online privacy and reputation, please visit www.csid.com/socialmonitoring.