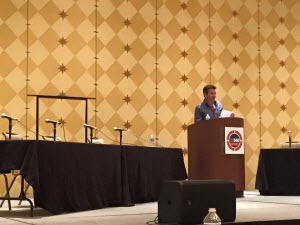 In May, we enjoyed participating in the annual ID360 conference and connecting with other attendees around this year's topic – the "Identity Economy." Also this month – the UT Center for Identity created a Master of Science degree in Identity Management and Security, CSID execs shared insight on identity management in the era of the Internet of Things, a major IRS breach made headlines, and CSID employees spent some time unwinding and satisfying their sweet tooth.
ID360 Comes to a Close
We were busy in early May ramping up for our sessions at the annual ID360 Conference, put on by our friends at the UT Center for Identity. Each year, the event brings together stakeholders and industry experts from the private sector, government and academia to discuss the latest research and most forward thinking ideas around identity management.
The theme this year was "The Identity Economy," and our own Joe Ross and Adam Tyler weighed in on the following topics. For a full description of each of the sessions, check out our ID360 Sneak-Peek post.
Finding a Cure for Medical Identity Theft
Securing Digital Wallets Before Majority Adoption
Identity Crimes: Your Money or Your Life?
UT Center for Identity Launches a Cybersecurity University Program
We were excited to see major strides towards strengthening cybersecurity higher-education through the creation of the Master of Science in Identity Management and Security degree from the UT Center for Identity. Interested in learning more about the program requirements and opportunities for career paths? Take a look at the course overview.
CSID Execs Weigh In on Cybersecurity Topics
CSID's Managing Director of Europe, Andrew Thomas, shared insight into how to mitigate risk in the hyper connected age of the Internet of Things. Check out his articles with Information Age and IT Security Guru.
IRS Breach Changes the Way Businesses and Consumers Think About PII
Last month's major IRS breach, attributed to a syndicate in Russia, made headlines. Hackers successfully exploited 104,000 individuals and filed nearly $50 million in fraudulent tax funds. Be sure to check out our recap of the news.
Having S'More Fun at the Office
We took a small break to unwind – and indulge our sweet tooth – with some s'mores-making at the office mid-month. It was a great chance to mix and mingle and see who brought the best s'mores skills.
Check out what else we were up to in May on Facebook, Twitter and LinkedIn!