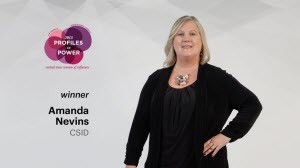 "Don't be afraid to shoot for the stars. Sometimes the biggest obstacle is believing in yourself. If you can do that, you will be surprised with what you can achieve, and how others will in turn believe in you as well."
These are words of wisdom from our CFO, Amanda Nevins. On August 7, Amanda was recognized as one of six Women of Influence in Central Texas by the Austin Business Journal during the publication's Profiles in Power event. Amanda was selected out of numerous entries and 30 finalists.
To say we are proud of Amanda is an understatement. Amanda has been with CSID for four years and during that time she has had a huge influence on our business and employees. Her extensive professional experience and technical vision has helped CSID achieve several years of growth. She has built a finance team that is unparalleled in Central Texas. We would not be where we are today without Amanda's expertise, professionalism, passion and guidance.
I know Amanda is also a community leader. She gives her time to professional organizations like SKU, a local accelerator created to help support the success of entrepreneurs and their companies, and non-profit organizations such as LifeWorks.
We are very glad to have Amanda on our team. Her achievements inspire everyone at CSID to continue to strive for greater success.
You can read more about Amanda and the other Profiles in Power winners and finalists in the Austin Business Journal.