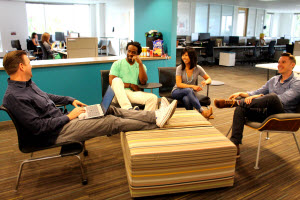 At CSID, we strongly believe there's a direct correlation between our company's success and the happiness and well-being of our employees. That's why we've worked tirelessly to create a company culture that includes a suite of competitive benefits to improve the quality of life for our growing team.
Today, we're thrilled to announce our new parental leave policy for 2016 for our male and female employees that includes 12 weeks of 100% paid time off (PTO) with the flexibility to distribute this leave over a six-month time period. We've developed this policy to reflect the evolving modern landscape of parenting, with the hope that it will allow new parents to spend more time at home with their new addition to the family.
Here's what CSID President and Co-Founder, Joe Ross, had to say about the news: "At CSID, we've always believed that the happiness and personal fulfillment of each and every one of our employees is directly related to our company success, and strived to create an environment reflective of our core values. We're glad that technology industry behemoths like Facebook have brought parental leave to the forefront of the benefits conversation and more in line with the modern family. We want to demonstrate that mid-size companies are also capable of offering these types of policies for their employees. We believe we are one of only two companies in Austin offering parental leave at this level."
Senior Director of HR, David Darrow, also shared his insight on the new policy: "Research has continued to show the benefits of paid parental leave – including the psychological well being of new parents and also the probability that they will return to work. We're excited to roll out a policy that we strongly believe will be mutually beneficial for our employees and the company."
Our parental leave policy joins a host of other competitive benefits, including:
Flexible, open vacation policy for exempt employees
Free identity protection
401k with generous company match
On-site gym and bi-weekly on-site yoga classes
Open office environment that fosters collaboration
A comprehensive list of benefits can be found on our website.
Interested in learning more about what it's like to work at CSID? Hear what our employees had to say and view current openings here and be sure to follow us on Facebook, Twitter and LinkedIn and along with our hashtag #LifeAtCSID for more company updates.