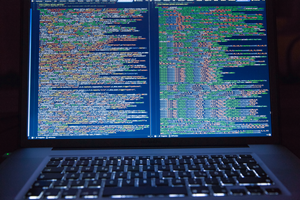 National Cyber Security Awareness Month (NCSAM) kicked off this month and as a result, more eyes than ever are on cybersecurity. This week, we're spotlighting a few recent national stories we expect to be a key part of the conversation among those participating with us in the month-long celebration.
Cybersecurity and the 2016 Election
For the first time in history, cybersecurity has emerged as a major topic in the 2016 general election. In the first presidential debate, both candidates talked about cybersecurity, especially in regard to alleged recent state sponsored cyber attacks. Both candidates agreed that the US should have strong cybersecurity capabilities to combat such threats.
National cybersecurity will continue to be in the news as Election Day itself approaches. Politico recently reported that hackers have probed voter registration systems in more than 20 states. In the wake of this news, more and more voters are becoming concerned as they prepare to head to the polls. Fortunately, many states are now working diligently with the Department of Homeland Security to ensure that their voting systems are properly secured for Election Day.
IoT Breaches On The Rise
The Internet of Things (IoT) continues to grow steadily, and organizations of all kinds are learning to adapt to the new technology ecosystem. However, security flaws in the IoT remain as a concern that has not been adequately addressed. Powerful DDOS, or "distributed denial of service" attacks via IoT devices have made headlines in recent weeks. DDOS attacks are a tried and true type of threat, but what we're beginning to see is cyber criminals using compromised IoT devices to augment the size of an attack.
As part of NCSAM, the Online Trust Alliance released a checklist of steps for ensuring the security of IoT devices. Just as for most online risk mitigation, consumers should regularly update privacy settings on home and wearable devices in order to remain secure. Additionally, users should create long and strong passwords for all of their devices, and update them regularly.
Security Skills Gap
As we discussed a few weeks ago, the shortage in trained cybersecurity professionals is a problem. New reports show that the problem is continuing to grow. More than 209,000 U.S.-based cybersecurity jobs remained unfilled, a figure that is up 74 percent since 2011. Overall, the state of the cybersecurity skills shortage continues to pose a threat to the industry.
In spite of these issues, 79% of current cybersecurity professionals say that they are happy in their career path. It's a fulfilling career, especially for today's tech savvy population. Additionally, more and more schools globally are establishing programs and scholarships that directly address the cybersecurity skills gap by sparking curiosity and inspiring younger generations to get involved in the field.
To stay up to date with all the industry news shaping up during NCSAM, be sure to follow us on Facebook, Twitter and LinkedIn