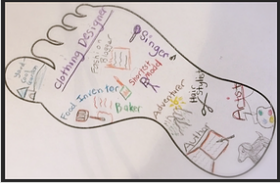 This guest blog post is a part of our cyberSAFE blog series focusing on back-to-school security, privacy and identity topics. It comes to us from Diana Graber, co-founder of CyberWise, the go-to-to source for busy adults who want to learn how to embrace digital media fearlessly, and the CyberWise Certified online learning program (check out the course on "Online Reputation Management"). She developed and teaches middle school "Cyber Civics" at Journey School in Aliso Viejo, CA. Diana has an M.A. in Media Psychology and Social Change and is a regular contributor to the Huffington Post.
My daughter, who is busy preparing to go off to college, burst into my office yesterday with a question, "Why in the world did you ever let me get a Facebook page in 8th grade?"
The reason for her outburst was that she'd just received an email from her university telling her the names of her future roommates… you can imagine what every student does the moment they receive this information—they look each other up on Facebook. She anguished over silly and embarrassing posts on her page from 8th grade. She felt that the mistakes she made as a tween were tarnishing her online reputation as a young adult.
Understanding the impact of one's online reputation—or, "digital footprint"— is challenging, even for those of us who have been online for a long time. We see examples of adults being digitally disastrous every day and we certainly can think of someone who has shared too much information or posted a photo that makes us cringe. So, imagine the difficulty of trying to introduce the concept of a "digital footprint," and its future ramifications, to kids who are just starting to make their online reputations take shape.
That's what I do in 6th grade Cyber Civics™ classes at Journey School in Aliso Viejo, CA. To teach this concept I use a lesson from Common Sense Media and adapt it to make it particularly relevant to my students. For example, one class had just completed a very successful pie-making/selling fundraiser called "Sweetie Pies," so I told these students that as "owners" they were going to hire a national spokesperson for their thriving venture. In this engaging experience, the children consider two applicants, Jason and Linda, by reviewing their "digital footprints."
After conducting this digital background check, the students were asked to consider which candidate they should hire based on the following criteria: Who was more honest and who worked well with others? They broke into small groups to ponder this decision and after considering all the online evidence (not so good), most groups decided not to hire either candidate.
The best part of this lesson, however, is the follow-up activity: students were given a blank footprint and told that it represented their "digital footprint." Their task was to think about what they wanted it to say in 10 years by filling it in with words and images that described their future selves.
These students designed footprints that said they'd be professional soccer players, artists, scientists, musicians, gamers, fashion stylists and more. Some footprints indicated that these kids were going to win the Nobel Peace prize, the Heisman trophy, feed the homeless and perform hundreds of pet rescues.
Of course only a fraction of these digital dreams will come true, but the point is this: it gives kids the idea that they can, and should, shape their own online reputations, or "digital footprints" and be proud of the online self they show to the world.