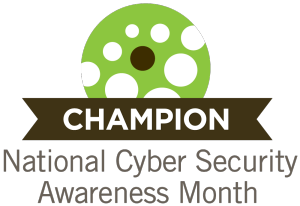 October is National Cyber Security Awareness month (NSCAM), and we're excited to be involved and show our support as an official champion!
While it's important to keep cyber security top-of-mind throughout the year, NCSAM provides a dedicated time for companies and organizations to share tips, best practices, and collaborate on how to stay safe online.
President Barack Obama kicked things off, stressing the importance of cybersecurity with this official statement from the White House: "We now live in an era of the Internet – our children will never know a world without it. Our financial systems, our power grid, and our health systems run on it, and through widely helpful, this reliance reminds us of our need to remain aware, alert and attentive on this new frontier. By working together to prevent and disrupt threats to our digital infrastructure, America can continue pioneering new discoveries and expanding the boundaries of humanity's reach."
Looking for ways to get involved?
Show your support by registering to be an NSCAM "Champion"
Participate in upcoming #ChatSTC Twitter chats, occurring every Thursday throughout the month at 2 p.m. CT:

October 8: How to Create a Culture of Cybersecurity at Any Organization
October 15: Digital Parenting – Keeping Your Connected Family Safe
October 22: Cybersecurity and the Evolving Internet of Things
October 29: So You Want to Work in Cybersecurity?

Host a lunch and talk to coworkers about online safety on one or more of the weekly NCSAM themes.
Organize a volunteer day with local schools to teach young people about cybersecurity and online safety using StaySafeOnline.org's ready-to-use teaching materials and lesson plans.
Stay tuned to the blog throughout October for cybersecurity tips and tricks from CSID experts. Have additional ways you're celebrating NCSAM? Share them with us on Twitter and Facebook, and be sure to check out our Tumblr for the latest industry news stories.