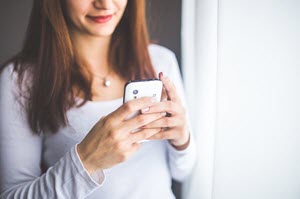 This summer, with the explosion of Pokemon Go, we've seen how a mobile app can take the world by storm. The mobile world continues to grow, and as it does, we must remember to take the necessary steps to ensure our devices remain secure. As we approach the end of summer, here's a little back-to-school refresher on accessing the apps on your phone safely.
Check Privacy Settings
Think about the accounts you use most frequently – do you know what your privacy settings are for each of them? Whether it's a banking app, an online retailer, or an email account, if you're interacting with it often, you should monitor your privacy settings. Certain apps will have default settings that may share information you're not comfortable giving out. Taking a thorough look at your settings is well worth it to maximize your privacy.
Not sure where to look for privacy settings? The National Cyber Security Alliance has created a guide with links to the security settings of several commonly used apps like Spotify and Amazon. Once your settings are up to date, your next purchase or song session will be that much more secure.
Updates Are Your Friend
Privacy settings aren't the only thing you should update – the apps themselves need to be refreshed, too. Once an app is released into the world, developers don't stop working on it. They're constantly monitoring for bugs and ways to improve their product's security, and updates pass those improvements along to users. Updates may change an app's interface, but they also frequently provide benefits under the surface, such as eliminating glitches and offering better overall security.
If your phone isn't already set to automatically update, turn that function on for the peace of mind that you have the most secure version of the app available.
Delete Apps You Don't Use
Most people have at least one app on their phone that they never touch. Not only is that forgotten app taking up space on your phone, it may also be a security threat. As we mentioned earlier, there will likely be security updates for your abandoned apps that you may not be aware of, making your phone an easier target.
Depending on your device, you can either disable or permanently delete an app. If you're an iOS user, you'll also want to delete the apps from your iTunes account, or they will reinstall anytime you sync your phone.
Keep Your Family Secure, Too
There are several apps whose sole purpose is to hide other apps on someone's phone. Your child may be using these types of apps to divert attention away from other apps you might not want them using. New messaging apps are constantly being developed which allow users to chat anonymously. By posing as fellow teenagers, hackers have the opportunity to mine your child's personally identifiable information and put their identity at risk.
It's worth taking the time to review what your kids have downloaded onto their phone, and talk to them about the potential risks of certain apps. Encourage them to mirror your privacy settings, as well.
What other tips do you have for keeping your phone secure? Join the conversation and stay up to date on the latest tips and cybersecurity news by following CSID on Facebook, Twitter or LinkedIn.