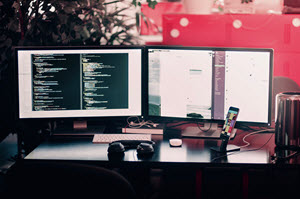 This week, we're talking about one of the most important topics in cybersecurity: the global cybersecurity professional gap and how computer-savvy millennials can help to fill it. Here's a quick recap of the news surrounding this important issue, including research from our friends over at the National Cyber Security Alliance (NCSA).
The Cybersecurity Professional Gap
Today's interconnected world creates greater opportunities for cyber attacks. As a result, the demand for cybersecurity professionals has grown enormously. Unfortunately, there are not enough qualified professionals to meet that demand. A study from Raytheon found that 79% of businesses in the U.S. experienced a recent cybersecurity incident, but 82% are unable to fill their open IT jobs. The study also found that while there are only 65,362 Certified Information Security Professionals (CISSP) in the U.S., companies posted almost 50,000 job requests for CISSP holders.
The consequences of this gap are already being felt. NCSA explains that without the proper security team, organizations are exposed to a greater risk for loss in profitability, brand reputation and intellectual property. According to a report from Intel Security, 71% of those who participated say they are already seeing quantifiable damage to their organizations. Current cybersecurity professionals are more likely to experience burnout, and their limited time is often spent responding to pressing cyber incidents rather than defending against them in the first place.
Can Millennials Fill The Gap?
Organizations and governmental task forces globally are hoping millennials can start to fill the deficit. However, lack of awareness is still a huge barrier. The Raytheon study found that 52% of millennial women and 39% of millennial men say they were never made aware of computer science programs in school. Additionally, 77% of young women in the U.S. say no high school guidance or career counselor talked about cybersecurity as a career, and 67% of men said the same.
Fortunately, it's not too late for the millennial generation to correct the problem. The same Raytheon study also found that 40% of survey respondents were interested in learning more about careers in security. While millennials already in the workforce may have a more difficult time switching career fields, helpful Quora users have shared some tips on how people can begin to educate themselves. Additionally, the current pool of late millennials and college students are great candidates to begin training in the cybersecurity market.
Join the conversation and stay up to date on cybersecurity news by following CSID on Facebook, Twitter or LinkedIn.