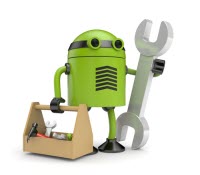 This week, Kaspersky Lab discovered the first-known targeted attack to use Android malware, which targeted Tibetan activists and other ethnic groups in China. "The malware [used] a combination of e-mail hacking, 'spear phishing' and a Trojan built specifically for Android smartphones," said Ars Technica.
Mashable said that the malware was "sent as an attachment in an email referencing the recent World Uyghur Conference (WUC), where human rights activists from Tibet, China, East Turkestan and Mongolia gathered." Once installed, the app notifies the server of the successful infection and starts harvesting personal information such as contacts, SMS messages, physical data and other info from the victim's phone.
InformationWeek reported that Kaspersky Lab researchers had not seen targeted attacks against mobile phones until now but had seen indications that they were in development. Typically, cyber attacks against activist groups have focused on infecting computers rather than smartphones.
With mobile technology constantly evolving, are you concerned about hackers targeting you or your employees through smartphones? Let us know what you think in the comments section below or on Twitter and Facebook. Also, be sure to check out our Tumblr page for the latest industry news stories.