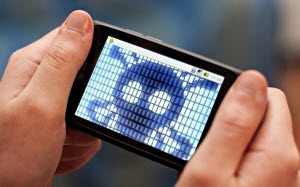 The Mobile Secutity: BYOD, mCommerce, Consumer & Enterprise 2013-2018 report by Juniper Research finds that more than 80 percent of smartphones devices remain unprotected from malware attacks. As mobile operating systems, including smartphones and tablets, continue to increase in usage, cyber criminals are transitioning their focus from PCs toward the mobile platform.
Although there is an increased risk of smartphone attacks from malware, the report shows consumer awareness is slower to adapt which allows attackers to easily search for ways to circumvent a defense perimeter. Cybercriminals use social engineering to actively persuade users to take shortcuts or to indulge in behaviors that allow the attacker access (Defending Against Web-Based Malware).
Despite low public perception, mobile security software is steadily on the rise due to increased malware attacks over the past two years. The report found that there will be an increase of 325 million mobile devices to have mobile security software installed by 2018, totaling around 1.3 billion devices.
As seen with the "TouchID" feature on the new iPhone 5s, protective measures are already beginning to be enacted. Looking back to CSID's September blog post, Apple Announces Touch ID, a Fingerprint Password Sensor, the "TouchID" finger sensor could "act as a first line of defense against would-be thieves and hackers – even intelligence agencies, to a degree – against identity and content theft, fraud, and surveillance," reports Zack Whittaker at ZDNet.
Kristin Badgett, CSID Information Security Officer, advises that the best way to protect yourself and your company from web-based cyberattacks and malware is to stay educated on how to spot and mitigate them. Look for suspicious signs in email and online, such as:
Online or email offers that seem way too good to be true
Receiving emails from an unrecognized sender or domain
URLs that seem odd or are off by a few characters or numbers
Applications running slower than normal or unexpected system behavior
Look for unexpected program launches, such as a pop-up window, system tray icon, or invisible processes in your task manager
Look for bad grammar and spelling errors in text of emails and web-based content
A flux of pop-up advertisements when you had pop-ups blocked
A good rule of thumb to follow: When in doubt, don't click on it!
Follow CSID on Twitter and Facebook for more news and tips, and be sure to check out our Tumblr for the latest industry news stories.