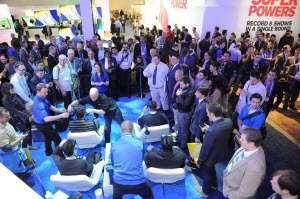 Hundreds of thousands of tech enthusiasts and innovators from around the world make their annual pilgrimage to Las Vegas for the Consumer Electronics Show (CES) this week.
The technology conference and trade show, whose attendees last year represented 82 percent of Fortune 100 companies, features some of the most exciting and newest technologies, encompassing everything from the latest developments in wearables, to connected cars, to robotics.
One area of focus in particular that has grown significantly from year to year is the Internet of Things. According to CIO, last year, more than 900 companies showcased IoT-enabled devices at CES. This year, many predict this number to be markedly higher. Some are already calling CES 2016 "the year IoT took over."
Major global companies like Ericsson, NETGEAR, Cisco and others have already unveiled either new products or programs specifically for IoT devices aimed to enhance the connected home.
If you've been following along with us, you know that we've already discussed security vulnerabilities and concerns around the IoT on the blog – including it as one of our key 2016 trends and diving into the topic in our fourth episode of Firewall chats with CSID Chief Innovation Officer, Adam Tyler. There's no doubt that though these connected devices may bring more efficiency and convenience to our everyday lives (and, there is of course, the "cool factor" – who doesn't want a fresh pot of coffee ready for them before waking up?) we must understand what we may be sacrificing from a security perspective.
As the IoT is still relatively new, many developers are prioritizing functionality before security. With IoT devices, there is a level of uncertainty with network accessibility, as with anything connected to the Internet. Even when considering seemingly innocuous connected devices (like a connected refrigerator or coffee maker), there may be network vulnerabilities that allow a hacker to access the owner's more sensitive information, like their email or bank account.
ZDNet reported that while concerns around privacy and security within the IoT may be on the rise, it still may be an "afterthought" for consumers this year at CES. Companies that have already very publicly expressed their investment in IoT security include Panasonic, Samsung, and Dojo-Labs, which, while a step in the right direction, is feared by some industry experts to possibly be too late, as the number of connected devices is expected to grow to more than six billion by next year, according to Gartner.
Will 2016 be the year that security comes into focus as IoT becomes the dominant topic of conversation at CES, or will it continue to take a back seat? And are companies acting quickly enough as our connected world rapidly grows? We'd love to hear what you think. Weigh in with us on Facebook, Twitter or LinkedIn.