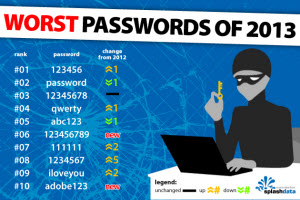 Every year security firm Splashdata pulls the most common stolen passwords to create a list of the year's worst passwords. The consensus is in for 2013, and "123456" has moved up a spot to be the most commonly used and guessed password of the year. Here's a look at the worst passwords of 2012 for comparison.
Many of the passwords on this list can be easily guessed or cracked, putting users at risk of having their financial information or identity stolen. In fact, PC World reporter Jared Newman said that "weaker passwords are more susceptible to brute-force attacks, where hackers attempt to access accounts through rapid guessing. And when encrypted passwords are stolen, weaker ones are the first to fall to increasingly sophisticated cracking software."
In addition to the typical "123456" and "password" passwords, there were a few on the list that were likely from recent breaches. Morgan Slain, CEO of SplashData, said in Time: "Seeing passwords like 'adobe123' and 'photoshop' on this list offers a good reminder not to base your password on the name of the website or application you are accessing."
Here's a look at SplashData's top 25 worst passwords for 2013:
1. 123456
2. password
3. 12345678
4. qwerty
5. abc123
6. 123456789
7. 111111
8. 1234567
9. iloveyou
10. adobe123
11. 123123
12. admin
13. 1234567890
14. letmein
15. photoshop
16. 1234
17. monkey
18. shadow
19. sunshine
20. 12345
21. password1
22. princess
23. azerty
24. trustno1
25. 000000
Find out how to create more secure password habits from our on-demand webinar and check out consumer password habits in this infographic. Let us know what you think about this list on Twitter and Facebook, be sure to check out our Tumblr for the latest industry news stories, and please change your password if you're using any of the above!