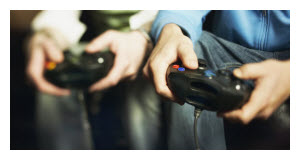 This guest blog post is a part of our cyberSAFE blog series focusing on back-to-school security, privacy and identity topics. It comes to us from Tom Galvin, Executive Director of Digital Citizens Alliance. Tom is based in Washington, DC and has been active in Internet security and safety issues for over a decade. He is focused on bringing a voice to consumers, including those who have been victimized online. By putting a face on the victims of online crime, Digital Citizens will serve our fellow citizens and issue a wake-up call to policymakers and Internet companies that they must do more to protect us.
Children today are engaging with a vast amount of digital content. The average child spends around 7.5 hours a day consuming some form of media—a lot of it through the Internet. While children may be tech-savvy, they don't always understand the implications of downloading an illegal game, song, TV show, or movie—and what those actions can mean for their personal online safety.
It should come as no surprise that a significant percentage of the content children encounter online is stolen content—music, movies, and games that are provided for "free" because the sites hosting them have misappropriated them. Criminals rake in hundreds of millions of dollars a year through advertising and subscription fees for content they don't own. In fact, that's a topic Digital Citizens has explored at length in our study, Good Money Gone Bad.
Children may or may not realize that downloading this content is illegal, and certainly more education is needed to help children behave ethically and morally online. Beyond the issue of whether downloading stolen content is ethically wrong, it also exposes children to significant risks. Those "free" games or songs can end up costing children and their parents a lot, including their identities.
A good rule of thumb for anyone to follow is that there's no such thing as "free" on the Internet. Downloading stolen content exposes an Internet user and his or her entire family to malware and spyware that puts personal information at risk, gives hackers access to private content, and enables identity thieves to steal your life.
According to a recent survey, identity theft among children is on the rise. One out of every 40 households with kids 18 or under has experienced "at least one child's personal data compromised by identity thieves." Sadly, most of the time identity theft among children isn't even discovered until years later, when the child becomes old enough to apply for a bank account, student loan, or credit card. By then, the damage done can be extraordinary.
Children are especially vulnerable to identity theft because their identities are essentially clean slates. They have Social Security numbers with no credit histories, making them perfect targets for online criminals who can use their Social Security information to open fraudulent bank accounts, new lines of credit, or even mortgages and loans.
Most of us would never condone a child walking into a local store and stealing a CD, DVD, or video game, but when they download illegal content, that's essentially what they're doing. The only real difference is that stealing a DVD from the local Best Buy isn't likely to lead to weeks or years of frustration and expenses trying to reclaim a stolen identity.
In today's digital world, it's not just about teaching our children right and wrong when it comes to content theft, as important as that is. It's also about helping them understand how downloading supposedly free movies, music, or games can put their online safety and their identities at risk. Today's children need to know how their actions online can impact their entire life offline, and that means their parents need to know as well.
For more information, visit the FTC's guide to Child Identity Theft.