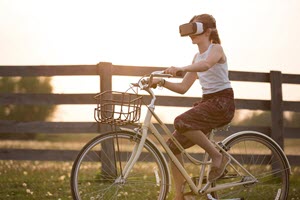 Recent advancements in virtual reality (VR) have ushered in one of the most exciting times in technology, with consumers and businesses alike realizing VR's potential for transforming and enhancing experiences. VR has proven to be so much more than a vehicle for gaming. We're still in the early stages of understanding the full implications of VR, but exciting progress has already been made in verticals spanning from entertainment to education, and even the medical field. Early studies have shown it has helped paraplegics regain body functions, treat PTSD and anxiety attacks, test car safety, and so much more.
With VR picking up steam and quickly making its way from research labs to consumers' living rooms, it's more important than ever for consumers to be aware of the unique threats that may be associated with VR.
Physical Risk: Blended Realities
Virtual reality simulated experiences can create a degree of realism that may cause a user to become so deeply immersed in that experience that they become less aware of their surroundings. The nature of current VR headsets is such that users cannot see anything around them. VR experiences that require movement – like simulating the motion of swinging a tennis racket for example – could cause danger or harm to the user if they are not in an open space, clear of other individuals or structures.
Digital Risks: Privacy and Identity Theft
Like any technology that collects user information, including payment, account, and personal details, VR will continue to be a valuable target for cyber criminals. Pressures to bring the technology to market quickly may also cause developers to overlook critical security and privacy considerations. Other security risks may emerge when the devices are in use, as users may unknowingly express information related to their location or identity which may be recorded by a third party and used for marketing or if it falls into the wrong hands, identity theft.
Many predict that hackers will use tried and true hacks in new ways, leveraging VR to have users, "unwittingly deploy a Trojan" or "leak their password with just a wave of a hand," for example. Phishing could also be executed via "fake virtual objects," a duping method believed to already be in use by hackers.
Securing VR will take collaboration from the public and private sectors and a commitment from technology developers to create more secure devices. However, users should be aware of their own responsibility in protecting themselves. Be careful to use long, strong and unique passwords for VR-associated accounts, vet third party vendors, and ensure all of your devices have the latest software.
Have other VR security considerations to share? Weigh in with us on Facebook, Twitter and LinkedIn.