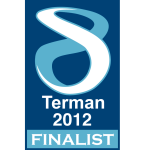 Though Global ID Protector was only released this past August, it is already making a name for itself in the technology space. Global ID Protector is used by Fortune 500 international companies, has been deployed in more than 47 countries and has been translated into 15 languages. And in December, the Austin Business Journal awarded Global ID Protector the Gold Award – the top honor – in its annual Tech Innovation Awards program, recognizing the technology's ability to positively impact the security industry.
Now, Global ID Protector has done it again. The TechAmerica Foundation has named CSID a finalist in the Cyber Security and Authentication category of the 2012 American Technology Awards (ATA's) for the Global ID Protector product. We're up against two other finalists in the category: RSA and KOBIL USA. See more about the awards and the complete list of finalists.
Jennifer Kerber, President of the TechAmerica Foundation, said in the company's press release: "The caliber of this year's nominees was incredible. Our judges had their work cut out for them in coming up with these outstanding finalists, who represent the best of technology in their categories. What a great indicator of how the tech sector is growing and innovating."
They'll be announcing the winners for each category early next week. Fingers crossed for CSID!