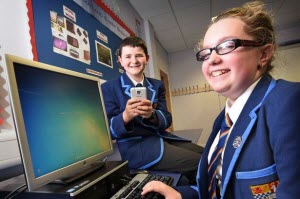 We've seen some exciting initiatives underway internationally that encourage important cyber security education.
Just this past month a Scottish secondary school implemented a groundbreaking new course on cybercrime that gives students insight into real-world cybercrime cases. The program is the first of its kind and The Daily Record reports that it has attracted widespread attention from police forces and schools around the UK.
Kyle Academy in Ayr offers this ten-week program to first year students that want to learn about cybercrime. "We worked with police to create a Police Scotland Cyber Security Open Badge – much like you would get in the Scouts," described Scott Hunter, principal computer science teacher at Kyle Academy. "The police supplied us with real case studies – like extortion on the web – so pupils could relate to what goes on rather than me just saying, 'This is dangerous'. This had a great impact."
Continuing Scotland's focus on cybercrime education, Andrew Denholm of The Herald Scotland reports that Police Scotland has recently increased its collaboration with educators to boost young people's interest in cyber security. These efforts are to combat a decline in student participation in computer science programs.
Martin Beaton, from Edinburgh University's School of Informatics said, "The subject is withering and we need to establish why the number of pupils taking it and the number of teachers teaching it are in decline when it is such an important growth area."
Detective Superintendent Stephen Wilson, from Police Scotland, added, "Crime is going down, but cyber crime is on the increase and it is something of which we all need to be aware. We are now seeing businesses of all different sizes being hit by various forms of cyber crime and there is a desperate need for experts in this field in the future."
Cybercrime educational initiatives aren't limited to Scotland. Cyber Security Challenge UK, a series of national competitions and learning programs, has also made headlines over the past few months. In a recent competition finale, amateur cyber security enthusiasts raced to stop a simulated cyber-terrorist attack against London City Hall.
"Both government and business need skilled and talented people to feed the demand for better cyber security in the UK," said Francis Maude, Minister for the Cabinet Office with responsibility for the Cyber Security Strategy and National Cyber Security Programme, whose department was one of the original founders of the Challenge.
"This competition is the biggest and best yet and events like this play an important role in helping provide the next generation of cyber professionals."
Should other countries create similar programs for students? Will programs like these help foster the next generation of InfoSec professionals? Let us know what you think on Twitter and Facebook. Be sure to check out our Tumblr for the latest industry news stories.