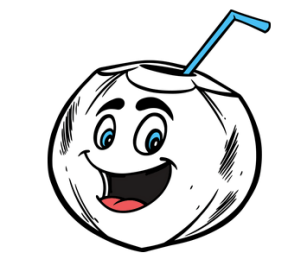 There's a huge misconception among small businesses that cyber criminals are only interested in stealing data from big names like Target, Home Depot and Neiman Marcus. This misleading mindset may cause a small business (SMB) to inadequately invest in security measures and improperly enforce security policies at work. In fact, only 2 in 5 SMBs have a social media policy in place and only 2 in 10 SMBs plan to increase security spending this year. The truth of the matter is that cyber criminals are looking for the path of least resistance that will get them the most information as fast as possible.
With the growth of startup culture across the nation, we decided to test just how easy it is for cyber criminals to infiltrate a budding business. Thanks to the ingenuity of the sales and marketing team and some dark web help from our cyber team, Jomoco was brought to life. Jomoco is a fictitious coconut water company with a groovy coconut mascot and two fabricated employee personas. We set up Jomoco like any other startup would – with a company website, server, employee personal and work email addresses, a credit card and some employee social media accounts. CSID also ensured that Jomoco's fictional employees made common mistakes when protecting their professional and personal data online, including sharing sensitive information via email and reusing passwords across multiple sites. The real cyber criminals took it from there.
Within one hour, Jomoco was taken over by cyber criminals. The website was defaced, the credit card had been used and employees were locked out of work emails and social media sites.
Interested in finding out how cyber criminals took down this business so fast? Download our case study to get the complete story, including pictures of the defaced website and the dark web forums where Jomoco's credit card information was shared. If you're an SMB looking to better protect your data, here are tips from the National Cyber Security Alliance on how to make your business more secure.
How can SMBs better protect their assets? What are some ways employees can protect business data? Please share your thoughts with us on Facebook, Twitter and LinkedIn! We'd love to hear what you have to say.