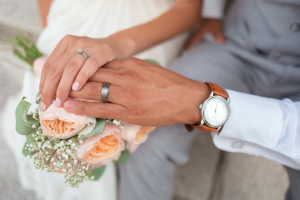 There's no doubt about it, wedding season is fully upon us. Between brides researching vendors on their mobile phones and excited guests eager to share the official hashtag, wedding planning and participation is becoming increasingly digital.
While technology may bring more convenience to the planning process, nothing ruins a honeymoon quite like a case of identity theft or fraud. In the spirit of staying safe during wedding season, our friends at the National Cybersecurity Alliance and STOP.THINK.CONNECT recently shared some helpful tips that brides, and everyone for that matter, should vow to follow. Here's a recap of a few we feel especially strongly about:
Make passwords long and strong: If you're planning your special day, chances are you're dealing with a number of online vendors. Remember to make passwords complex, using at least 12 characters with a combination of upper and lowercase letters and symbols. Be sure to use unique passwords for each account. If two-factor authentication is available, take advantage of this extra layer of security.
Resist the urge to share your honeymoon pictures on social: This is something we've discussed before on the blog, but sharing photos while you're on vacation can alert criminals that you are away from home. Avoid the stress of hearing about a break-in while you're on the beach, and wait to share pictures until you return. Also consider turning off location services on your mobile devices when not in use.
Avoid using public Wi-Fi hotspots: Whether you're at the airport, hotel, or hopping around cafés, avoid connecting to public Wi-Fi, especially while making purchases or accessing sensitive websites like your bank account. Using public Wi-Fi can significantly increase the risk of signal sniffing and identity theft. The convenience is not worth the security trade-off. Consider a VPN if you're looking to connect securely on the go.
Are you taking the plunge and committing to safe digital practices? We'd love to hear from you. Join the conversation on Facebook, Twitter and LinkedIn and be sure to check out the full list of tips for digital bliss from our friends at the National Cybersecurity Alliance and STOP.THINK.CONNECT.