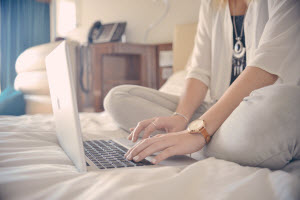 In just a few short weeks, South by Southwest will descend upon downtown Austin, Texas. The Interactive portion of the conference is lauded for highlighting the most current privacy and security issues, drawing thousands of thought leaders to our backyard. In Firewall Chat's second season, we decided to highlight some of these key thinkers whose SXSW panels focus on issues that are putting our identities and personal data at risk.
In our first episode this season, we had the pleasure of speaking with Nuala O'Connor, president and CEO of the Center for Democracy and Technology. O'Connor is a SXSW veteran and plans to discuss the notion of the "digital self," as well as policy, legal and personal boundaries in her upcoming session, "Protecting the Digital You" on Sunday, March 13.
"I think many of us know the very significant privacy issues that we all face in both leveraging and using the best of technology," said O'Connor, who previously cut her teeth at Amazon and General Electric. "But we also need to make sure we have a safe space to be individual, to be creative, and to be private."
In her role with the Center for Technology and Democracy, O'Connor petitions for the rights of the individual in our digital world, including privacy and free expression. She also works alongside companies, governments and citizens to create and adopt thoughtful digital policies – including data destruction.
"Companies need to be transparent about what data is being collected, when and why," said O'Connor. "[And] data has a half-life at some point. Too much data is not helpful to endeavors at hand. Companies need relevant data to help them get their job done, [but] collecting it all and deciding what to do with it later is not an acceptable answer."
Despite the heated conversations around big data, privacy and security, O'Connor believes we are only at the inception of what's to come.
"I think there are great days ahead," she said. "I think the potential for technology to change lives in healthcare and education and the environment [is huge]. We're still at the beginning [of the Internet]. I think everyone gets a voice in helping build it the right way, but hopefully always with the rights of the individual at heart."
Listen to the entire episode at www.CSID.com/FirewallChats. And let us know your feedback on our Firewall Chats social channels on Twitter and Facebook.
Save the Date: Our next episode will air on Tuesday, March 1, and feature SXSW speaker Olga Raskin on biometric data. You don't want to miss it!