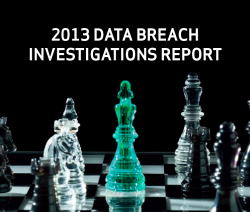 This week Verizon released their sixth annual Data Breach Investigations Report, analyzing more than 47,000 reported security incidences in 2012. The report found that 75 percent of data breaches were driven by financial motives and 20 percent of attacks fell in the cyber espionage category, targeting intellectual property.
"Typically what we see in our data set are financially motivated breaches, so the targets usually include retail organizations, restaurants, food-service-type firms, banks and financial institutions," said Jay Jacobs, senior analyst with the Verizon RISK team, in PC World. "When we looked at the espionage cases, those industries suddenly dropped down to the bottom of the list and we saw mostly targets with a large amount of intellectual property like organizations from the manufacturing and professional services industries, computer and engineering consultancies, and so on."
The types of industries affected are widespread. Principal author of the report Wade Baker believes "the bottom line is that unfortunately, no organization is immune to a data breach in this day and age. We have the tools today to combat cybercrime, but it's really all about selecting the right ones and using them in the right way. In other words, understand your adversary – know their motives and methods, and prepare your defenses accordingly and always keep your guard up."
What are some ways your business prepares for a potential security breach? Does your business need to protect itself from financially motivated cybercriminals, those looking for intellectual property or both? Download the full report or get a quick look at the security landscape with the executive summary and let us know what you think on Twitter and Facebook. Be sure to check out our Tumblr page for the latest industry news stories.