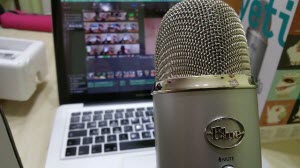 Now that we've launched our third episode of Firewall Chats, we feel confident saying we're officially a part of the cybersecurity podcast network. Our main goal with Firewall Chats is to educate our listeners with information and advice on how to best protect their most sensitive information. We've been fortunate to have some terrific guests thus far, including SociallyActive.com's Chris Crosby, Passcode's Michael Farrell, and Katie Stephens from the University of Texas Center for Identity.
Of course, we're hardly alone in providing helpful information for our listeners. There are a lot of great cybersecurity podcasts out there. We'd like to share a few of our favorites.
Security Now! is one of the original cybersecurity podcasts, getting its start all the way back in 2005. Steve Gibson, the man who coined the term "spyware" and created the first anti-spyware program, sits down with TechTV's Leo Laporte to discuss important issues of personal computer security. If you use a personal computer, you'll find something to take away from this podcast every week.
The Southern Fried Security Podcast aims to fill in the gap between the more technical security podcasts and Security Now. Topics include information on the latest breaches, how to make sure your passwords are the most secure, and candid takes on the cybersecurity industry.
You won't find Tom Cruise dancing around the house in the Risky Business podcast, but you certainly will get a lot of laughs. Patrick Gray takes a lighthearted look at information security news and features. He does a particularly great job of breaking down complex subjects, making them accessible for anyone.
Every Thursday night at 6 p.m. EST, Paul's Security Weekly brings listeners (and viewers, as it's available as a live stream) the latest information security news, research, hacker techniques, vulnerabilities, and technical how-tos. The discussions can get quite technical, but show notes and a tech library complement the viewing experience.
Of course, we'd be remiss if we didn't include The Cybersecurity Podcast from Passcode. Every episode features key thought leaders in the cybersecurity space, taking a deeper look at things beyond just the headlines. Passcode tackles some of the most pressing issues and newest ideas in the cybersecurity arena, and it's always a fascinating listen.
In addition to checking out all of these podcasts, we hope you'll continue to listen to Firewall Chats. If you have a moment, please feel free to subscribe and leave a review for us on iTunes.