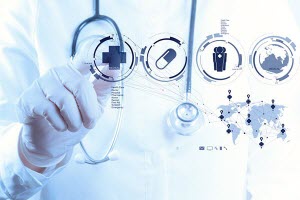 There has been a noticeable uptick in the number of criminal attacks against healthcare facilities in the last five years. Ponemon recently released its Fifth Annual Benchmark Study on Privacy and Security of Healthcare Data, which shared a 125 percent increase in cyber attacks targeting healthcare data. The major shift in healthcare data breaches, according to the study, is that cyber criminals are intentionally targeting and exploiting healthcare data rather than accidentally coming across it during their exploits.
This shift in active pursuit of healthcare data shows that cyber criminals understand the value of healthcare data on the black market. Through our recent research, we have found that a medical identity, which includes a name, address, Social Security and health ID numbers, sells for $50 on the black market. A Social Security number sells for $1 and an active credit card sells for $3. A major contributing factor to the increase in healthcare breaches may also be due to the shift to digital healthcare records. Starting this year, healthcare facilities that do not show "meaningful use" of electronic health records are penalized, causing facilities to scramble to put records online.
The healthcare industry is a green market when it comes to following best security practices, which is why we've put together the top three ways healthcare organizations can keep their patient records secure:
Educate employees. The most important part of having a secure network is making sure your employees are compliant with security standards. Educate employees on how medical identity theft happens and what to do from a HIPAA standpoint to keep patient data safe.
Track, encrypt and password-protect mobile devices. Employees are connected via mobile devices more than ever, whether or not you have a formal BYOD policy. Be sure to create a policy that puts strict limits on how patient data can be viewed and shared on devices.
Create an identity crisis response plan. If your healthcare data is breached, make sure to have a crisis plan in place, including communication with patients. Maintain the plan by training staff on relevant policies and procedures.
Are you surprised by the value of medical identities on the black market? How else can the healthcare industry get up to speed on best security practices? Let us know what you think on Facebook, Twitter and LinkedIn.