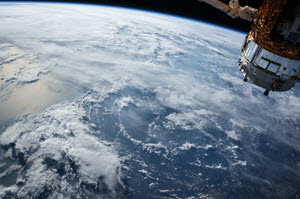 Research organization Chatham House made headlines earlier this month with a new report that calls for a "radical review of cybersecurity in space" and points to the rarely discussed, but increasing threat of satellite attacks. As so much of our world's infrastructure – including GPS navigation, financial transactions, weather and environmental monitoring – relies on satellite data, it's important to recognize that satellites and other space assets, just as any piece of technology on Earth, are vulnerable to cyber-attack.
According to the report, such attacks might include jamming, spoofing and hacking attacks on communication networks; target control systems or mission packages; and attacks on ground infrastructure like satellite control centers. There are a few reasons why satellites and space systems may be more vulnerable to attack. Here are some of those key factors listed in the report:
The first GPS systems were introduced more than three decades ago and technology is evolving at a rapid pace, making it hard to execute a timely response to space cyber threats. Younger individuals are using space-based and cyber communications in ways that older generations – often times the key decision makers – may not understand the range of threats.
Backdoor holes in encryption and otherwise secure control systems.
Increasing number of individual satellites and constellations providing an ever-increasing number of entry points.
Speed to market compromising important security controls.
The researchers leading this project insist that it will take a concerted and collaborative international effort, made up of "able states and stakeholders within the international space supply chain and insurance industry" to combat these growing threats.
But what can we do as consumers? Just as our day-to-day actions impact our security in the Internet of Things, these actions may also impact our security in space. It's imperative that we take action to secure our personal data (check out some tips on how to help secure your data in five minutes), business owners educate employees on cyber security best practices, and that manufacturers and developers keep security top-of-mind when bringing new products to market.
Where do you think the future of cyber security in space is headed? Share your thoughts with us on Facebook, Twitter or LinkedIn.