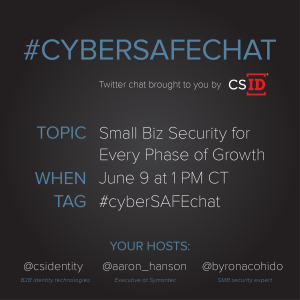 We recently surveyed small businesses (SMBs) on their security perceptions and habits and found that three out of every 10 SMBs are not protecting against security risks. Whether your SMB is just starting up or has been around for ages, you can bet that cyber criminals are targeting SMBs for financial fraud, data theft and much more. To help identify what cyber criminals are after during each phase of business growth and to share what methods of attack to look out for, we are hosting a Twitter chat with Symantec's Aaron Hanson and The Securitist's Byron Acohido who will help address how SMBs can better protect themselves from risks.
This #cyberSAFEchat on Monday, June 9th will explore the security risks SMBs face during every phase of growth and learn how to best protect against these threats. The hour-long Twitter chat will address the following key questions:
Q1: What security risks do SMBs need to consider when starting a business and why?
Q2: How do these risks change as the business grows and why?
Q3: How can lapses in security impact a SMB?
Q4: What tools and tips would you recommend that SMBs use to secure themselves, their employees and their customers?
To participate in this #cyberSAFEchat, all you need is a Twitter account. You can follow the hashtag #cyberSAFEchat on Monday, June 9th from 1:00 – 2:00 PM CT, and tweet your questions and comments to the group by including the #cyberSAFEchat hashtag in your tweets.
Be sure to connect with CSID, Aaron Hanson and Byron Acohido on Twitter and let us know if you plan on participating. See you there!