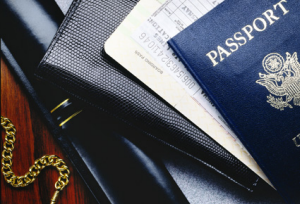 This week, PayPal CEO David Marcus had his credit information swiped while traveling abroad in the UK. Marcus tweeted, "My card (with EMV chip) got skimmed while in the UK. Ton of fraudulent txns. Wouldn't have happened if merchant accepted PayPal…" Ashley Feinberg of Gizmodo reported, "When you own a company specializing in online payments, the constant threat of hackers and phishing schemes is an inescapable part of the job description."
While this may be true, identity theft can happen to anyone – especially while traveling. Check out our past blog post for a few of our top tips to help you travel secure.
Update everything before traveling
Make sure all of your devices are up to date on the latest software prior to going on your trip, as updating while traveling (on hotel or public Wi-Fi for instance) can increase your chances of downloading malware.
Enroll in ID & Data Breach Protection Plans
Enroll yourself in an identity protection program to ensure that you're covered in the case that your identity is stolen while traveling. Also, encourage your company to invest in data breach and fraud detection solutions to provide an extra layer of protection for important data, traveling or not.
Don't use public Wi-Fi at the airport
Never connect to an unsecured Wi-Fi network on your laptop or mobile device. Connecting to "Free Public Wi-Fi" at the airport or other public place enables cyber criminals to capture your Internet history tracking data, aka "cookies," and access your email and social networking accounts. Use a VPN (virtual private network) and/or stay on your 3G or 4G connection to remain secure.
Keep your mobile device locked
Password-protect your phone in case it is lost or stolen. This can prevent, or at least delay, identity thieves from accessing sensitive apps and data. For extra protection, you can download the "Find My Phone" app for iOS or "Where's My Droid" app for Android that enables you to remotely wipe your SD card and phone data.
Check your bank account activity intermittently
Make sure there's no fraudulent activity occurring during your trip – and after. Keep an eye on your bank account for several weeks after returning from a trip; identity thieves are patient and will likely use your information after you return home.
Have you experienced identity theft while traveling? What tips would you suggest to keep yourself or others secure? Have you heard any updates on Marcus' news? Let us know what you think on Twitter and Facebook, and be sure to check out our Tumblr for the latest industry news stories.