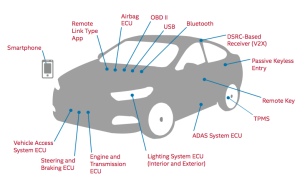 Two weeks ago we published a blog on security in the Internet of Things, part of which addressed recently uncovered vulnerabilities in automobile software. Since that time, concerns about cars and cybersecurity have remained in the news.
Hacked cars have made headlines before, but the issue was recently thrust back into the spotlight when white hat hackers Charlie Miller and Chris Valasek revealed a flaw in Chrysler's Uconnect system. The flaw allowed them to steer the vehicle, change its speed, disable the brakes and shut off the engine as it sped down a highway – all from the comfort of their couch. The two described the hack as "fairly easy" and "a weekend project."
An article in Wired covered this demonstration in detail and included the fear-inspiring conclusion that if this flaw is not fixed, "the result would be a wirelessly controlled automotive botnet encompassing hundreds of thousands of vehicles." Days later, Tesla Motors was featured in a similar story, a sign that the auto industry's connected cars are just as vulnerable to breach as our other Internet-connected devices.
There has been an evolving conversation around car security. As a result of Miller and Valasek's research, Chrysler issued a recall on more than a million vehicles. Meanwhile, according to Dark Reading, "the automobile industry at large began to address growing concerns over security weaknesses and vulnerabilities in new and evolving vehicle automation and networking features." Dark Reading also published a list of the world's most hackable cars, while security influencers began weighing in on the best ways to reduce car hacking threats.
As of September, the ongoing conversation has yielded some promising progress. Miller and Valasek announced that they are joining Uber's Advanced Technologies Center "to continue building out a world-class safety and security program at Uber." Intel, a company with plenty of clout in the auto industry, also recently published a "Best Practices" white paper, providing recommendations for automakers to outfit their vehicles for privacy and cybersecurity "in the era of the next-generation car."
The bonus of all the attention on car security? IoT security as a whole has been given more attention. Cars have not only pushed the Internet of Things forward, they have also reminded the world that as soon as anything is connected to the Internet, it becomes vulnerable to external parties.
Let us know what you think about security and the IoT on Twitter and Facebook. Be sure to check out our Tumblr for the latest industry news stories.