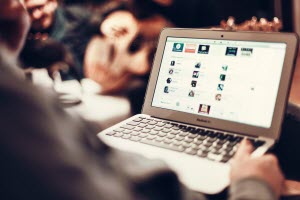 Did you log in to Facebook recently to see post after post of "privacy notices?" Those ineffective status updates were spawned by rumors of how people assume online privacy operates. There are a lot of unnerving rumors and myths circulating on the best way to control your information. In this week's episode of Firewall Chats, we want to give you the facts and cut through the clutter.
We sat down with Katie Stephens from the University of Texas at Austin's Center for Identity to discuss how keep your information safeguarded, online and off. These habits don't require you to copy/paste any text into your status updates, or sacrifice hours of your day. We offer simple tips you can adopt, right now.
At the Center, Stephens is the education program manager and has a heavy hand in the UT's new master's program exploring identity management and security. Whether she's speaking at SXSW or helping craft a security-related video game for kids, Stephens is dedicated to informing people about privacy and security.
"The key point surrounding privacy is to know what you value and to educate yourself accordingly," she said. "The more you are willing to give up, with regards to your privacy, the more risk it opens you up to in terms of identity theft."
We need to be careful not to give away data that is unnecessary to share, Stephens explained. Filling out forms in an urgent care clinic? Don't feel the need to jot your Social Security number down.
"There's absolutely no reason they need that information," Stephens said. "You can leave it blank. If someone is insistent that they need your data, feel comfortable asking them why they need it, who has access it to it, and what precautions they will take to keep it safe."
We explore password health, children on social media, two-factor authentication, and the woes of identity theft with Stephens. To hear it all, listen on www.CSID.com/FirewallChats, and reach out to us on our Twitter and Facebook pages.
Save the Date: Our next episode will air on Tuesday, Nov. 24, and will feature CSID's own Adam Tyler and the Internet of Things.