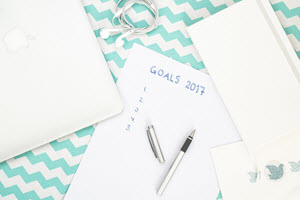 Last year is in our rearview mirror, and we're moving full steam ahead into 2017. It's around this time that people start focusing on their New Year's resolutions. One resolution that should be on everyone's list: improving personal online security. With the right resolutions, you can help minimize the risk of your information being compromised online.
Resolve to Use Strong Passwords and Update them Regularly
A quick look at the most common passwords from 2015 reveals a list that lacks complexity. The two most common are "123456" and "password," with other easy-to-guess passwords like "football" and "abc123" high up on the list.
Yes, these passwords are easy to remember, but that also means they are easy to guess. Make a promise to yourself in 2017 that you won't use your name (or a family member's name, including pets) or birthday (or a family member's birthday) in your passwords. Use long, strong, unique passwords with a mix of numbers, letters, and special characters. A technique that could help if you can't think of anything is to start at a key on your keyboard and draw the shape of a letter. For instance, beginning at the "X" key, your password could be XdR5TgY&UjM, which makes the shape of the letter "M." The end result is a password that's difficult to crack but easy to remember.
Creating a strong password is the first step. To take your security even further, keep that password updated regularly – that means changing it every three to six months. Additionally, don't reuse passwords across multiple apps and sites. Together, these steps will reduce the risk of your information being accessed.
Resolve to Think Before Clicking
Have you ever received an email or a link from a company or a person you knew, but something just seemed a little bit off? Maybe a word was misspelled, or the language just didn't sound like it normally does. It's possible the email was a phishing scam. Before you click on something that looks suspect, visit the sender's website directly or give their customer service a call. And if the link was sent from a friend or colleague, pick up the phone and confirm they actually sent it themselves.
Resolve to Be More Proactive – And Make Your Devices Act Accordingly
Enabling two-factor authentication or setting up monitoring services can further bolster your protection. It's always a good idea to keep an eye on your credit card and bank statements. If there's a charge that looks unfamiliar, contact your credit card company or bank. Many credit card issuers give users the option of opting in to alerts if something seems out of the ordinary. It's very easy to set these alerts up, and they're incredibly helpful in keeping an eye on your data and sensitive information.
With these resolutions, you'll be doing your part to make this year more secure. Another great resolution is to educate others: help a family member set up monitoring services, or encourage a friend to update their passwords. Together, we can help minimize the risk of cyber attacks.
Do you have any other cybersecurity resolutions for 2017? Share your tips with us on LinkedIn, Facebook and Twitter.