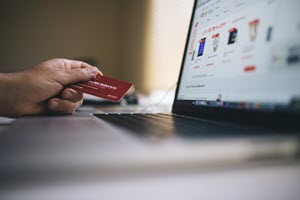 The holiday season is a whirlwind of wintry weather, family and friends, and shopping – a lot of shopping. The National Retail Federation predicts retail sales in November and December will increase 3.6 percent, reaching $655.8 billion. Online shopping is expected to increase between seven and ten percent from last year to a staggering $117 billion.
Whether you're battling the crowds or shopping from your smartphone, it's important to protect your information.
When Shopping In Stores:
Before you leave for an afternoon of shopping, edit the contents of your purse and wallet. Only carry the cards and information you absolutely need. Not writing checks? Leave your checkbook at home. It's important to note that you should avoid carrying your Social Security number with you year-round.
Protect your PIN when shopping by keeping a watchful eye on other shoppers, and covering the key pad.
Be aware of the information being collected (email, address, zip code, etc.) by retailers. Only share what is required, and feel comfortable asking how your information will be stored and used during future purchases.
Avoid sharing and accessing sensitive information over public Wi-Fi, including banking apps, social media, and online shopping. If there is no secured Wi-Fi network available, consider using a Virtual Private Network (VPN) while you shop.
Stay alert to your surroundings, and keep a close eye on your belongings. Never leave your purse and wallet in a car unattended.
When Shopping Online:
Be familiar with your merchant and ensure you're using reputable online sites. First and foremost, always look for the HTTPS and green padlock icon in the address bar. You should avoid entering your credit card number or financial information if you don't see this.
Create unique, cryptic passwords for each online customer account. Avoid using the same password across multiple websites and apps.
Take the time to logout of all online shopping accounts when your transaction is complete.
Make sure your devices are up-to-date, and that the latest security software and operating systems are being used for your phones, tablets, and computers.
Keep an eye out for phishing scams, as these fraudulent email messages are intended to look like legitimate offers during the holiday season. Never click on links in emails from unknown senders, and be wary of "too good to be true" deals. When in doubt, visit the retailer's website directly or call their customer service to ensure the deal or email is legitimate.
Whether you are shopping at home or in-person, it's important to keep track of your payments. Save records of your online purchases and check your bank account daily during this high-activity time. If you notice an unauthorized purchase, contact your bank or credit card company immediately.
We hope your holiday shopping is a breeze this season! What are your safe shopping tips? Share your advice with us on LinkedIn, Facebook and Twitter.