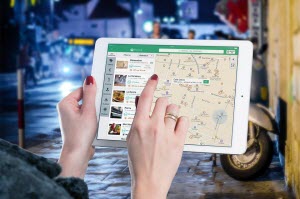 June is National Internet Safety Month, which began in 2005 in order to raise awareness around the need for online safety, especially among children and teens. In honor of Internet Safety Month, this week we're taking a look at keeping your information secure while traveling.
But before you pack your bags, it's important to understand that summer travel, and any travel, can put a target on your back for cyber criminals. Fortunately, there are some easy tips you can follow to keep you secure no matter where you go:
Be mindful of what you bring
While you may need to bring your license and passport if traveling abroad, keep other personally identifiable information (PII) at home. There is no need to bring things like your Social Security card, bank account statements or medical documents. These documents can be easily traced back to you, and if you misplace them during your travels, it can put you at risk for identity theft.
However, things you should keep with you when you travel are your personal devices. Avoid the urge to check larger devices in your luggage. While a laptop or camera may add a bit of bulk to your carry-on, it's worth having the peace of mind of knowing the location of these items that store your data at all times.
Avoid using public Wi-Fi
Avoid purchasing flights or accessing sensitive websites (like your bank account) on any device while connected through public Wi-Fi or unsecured networks Also, remember to turn off your phone's auto-connect Wi-Fi feature during your entire trip. When you're at the airport, in a café, at a bookstore, or other similar places, using public Wi-Fi can increase the risk of signal sniffing and identity theft.
Be in the moment
Resist sharing your vacation on social media while you're away from home. Posting a photo of your latest zip lining adventure may make your friends jealous, but it also alerts criminals that you're not at home. To prevent a break-in from an opportunistic criminal, wait until you return before sharing your photos. Don't worry – your friends will still be envious of your trip.
Have more traveling tips to share? Join the conversation over on Facebook, Twitter and LinkedIn, and check out our blog post on loyalty reward program scams for more traveling advice.