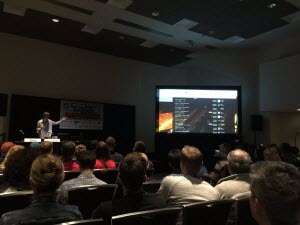 Over the past few years, we've been fortunate enough to take part in the whirlwind that is South by Southwest Interactive, joining in on some of the biggest technology conversations from around the world. The annual conference, which descends upon Austin every March, attracts hundreds of thousands of people. This past Saturday, our co-founder and president, Joe Ross, and Chief Innovation Officer, Adam Tyler, spoke at the conference. If you weren't able to make it to their panels, be sure to check out the recaps below for what you missed.
Digital Identities: Modern Underground Currencies
Saturday kicked off with Adam Tyler's 11 am session in the Austin Convention Center diving deep into the value of our digital identities across the dark web. Adam treated the crowd of around 450 people to a game of "The Price of Pii is Right" followed by a live demonstration, where he was able to show just how accessible these dark web marketplaces through a simple Google search. As he demystified the commonly held belief that it is "geniuses" or "experts" driving these attacks, there were many gasps and shocked expressions from the audience.
To see some of the Twitter chatter around the session, you can follow the hashtag PriceofPii. Adam also sat down 1:1 with Vivianne Bendermacher of Amsterdam-based publication, Bright.nl – if you're interested in seeing the live demonstration that he shared with her, check out the video
American Innovation and Cybersecurity
Later that day at the Omni Hotel, CSID President Joe Ross moderated an engaging conversation around cybersecurity and public and private sector responsibility. Panelists included Admiral Bobby Inman, Congressman Michael McCaul, and Deana Graziano of Symantec. These veteran thought leaders shared insights around the financial and political incentives driving hackers, and what the government and private sectors are doing to protect American citizens.
To stay up to date on all things CSID at SXSW, be sure to follow us on Facebook, Twitter and LinkedIn.