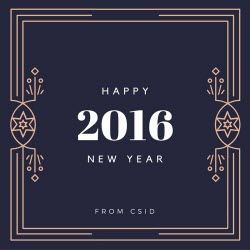 On behalf of all of us at CSID, we want to wish you a safe and happy New Year.
This past year was a big one for us, and we've appreciated you following along with our updates throughout the year. In case you missed it, we recapped some of the biggest highlights in our "2015: The Year in Review" blog post earlier this month.
Be sure to stay tuned to our blog for updates on our podcast series, Firewall Chats – we'll be rolling out season two early in the New Year. We're looking forward to sharing the latest cyber security best practices, tips and tricks to keep consumers safe and more in 2016.
If you haven't already, mark your calendars for Data Privacy Day (coming up January 28). We're excited to be participating once again this year as an official Champion. Find out how you can join us by getting involved here.
As always, we welcome your thoughts and suggestions for our blog content and podcast series. Please feel free to reach out to us and stay up to date on all CSID news by following us on Twitter Facebook and LinkedIn.