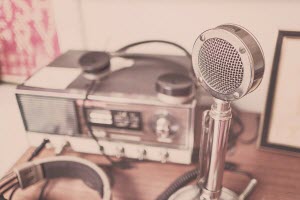 With all the excitement and hype surrounding podcasts like "Serial" and "This American Life," we finally decided it was time we hosted an ear-bud friendly conversation of our own.
Next week, we are thrilled to debut a brand new podcast called "Firewall Chats." Our pilot series explores five hot topics with five talented industry experts. Together, we weigh in on the latest conversations surrounding social media security, two-factor authentication, identity theft, privacy, and the ever-expanding Internet of Things.
In our debut episode, we'll learn about the price of oversharing on our favorite apps and social platforms with Chris Crosby, managing director of SociallyActive.com. Can a Facebook post lead to identity theft and fraud? How do we stay safe on the latest networks, like Periscope and SnapChat? We'll discuss tips to secure your favorite accounts and how to create a conversation at home about safe digital sharing.
Next, we dive into cybersecurity trends with our friends at Christian Science Monitor's Passcode, one of the fastest growing cybersecurity publications online. Editor Michael Farrell gives listeners a glimpse of the on-going work inside Passcode to cover news in government, policy, and cyber threats.
Katie Stephens, the education program manager at The University of Texas' Center for Identity, stops by in our third episode to give us all the facts on taking control of our privacy. Stephens addresses how consumers can adopt small, simple habits to help keep their most precious information safeguarded from cyber criminals.
Our fourth episode spotlights CSID's own Adam Tyler. Our passionate colleague speaks frequently on our increasingly connected world, and the privacy and security challenges we can anticipate as we reach 50 billion connected devices in 2020. In this podcast, we explore the devices we welcome into our home and our garages. What data is being collected? What are the dangers? Find out a little later this fall.
Closing our pilot season is Encap Security's Vice President of Business Development Adam Dolby, who takes time to chat with us about scams, malware, and phishing attempts. Did you know that there are roughly 156 million phishing emails sent globally every day? What are the warning signs of a scam? What is two-factor authentication and how do we implement in on our most important accounts? Listen to learn.
We are proud of this new channel and hope it serves as another great platform to share resources and timely news with both businesses and consumers. Have comments, questions? Want to see a topic addressed in a future episode? Let us know on our new Firewall Chats social channels on Twitter and Facebook. Thanks for listening!