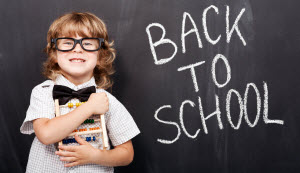 This guest blog post is a part of our cyberSAFE blog series focusing on back-to-school security, privacy and identity topics. It comes to us from Kara Wright, the Digital Media Coordinator for the National Cyber Security Alliance. She assists the operation and development of the STOP. THINK. CONNECT. and National Cyber Security Awareness Month campaigns and works with other NCSA staff to increase the campaigns' footprint and reach and social and digital properties.
As the new school year approaches, it is important for families to brush up on online safety and ensure they are staying safe online. Here are a few ways you can protect yourself and your family this school year.
Be Safe When Doing Your Back-To-School Shopping
Buying school supplies online? Check out these tips first:
Connect with care, and when shopping, be sure the site you are using is security-enabled. Look for a web address with https:// or "shttps://" instead of https:// (or a closed padlock on your web browser's address bar) to know the site takes extra measures to help secure your information.
If you are considering buying from a seller you have never used before, collect your own research on the seller first to make sure the site is legitimate. Some attackers try to trick you by creating malicious websites that appear legitimate, so you should verify the site before supplying information. Do this by searching for customer reviews and noting the company's phone number and physical address.
Protect your personal information and be alert to the kinds of information being collected when you are making a purchase online. Check the website's privacy policy before providing personal or financial information, and make sure you understand how your information will be stored and used. Remember that you only need to fill out required fields on a checkout form, and make sure that the information requested seems necessary.
Turn off your computer when you're finished shopping and using your computer. Leaving your computer connected to the Internet when it's not in use gives scammers 24/7 access to install malware and commit cyber crimes. To be safe, turn off your computer when it's not in use.
Protect Your Family from Cyberbullying Once School Starts
Every age group is vulnerable to cyberbullying, but teenagers and young adults are common victims. Cyberbullying is a growing problem in schools thanks to the Internet's fairly anonymous nature, but these steps can help you protect your family members from cyberbullying:
Limit where you and your family members post personal information. Be careful who can access your family members' contact information and details about interests, habits or employment to reduce exposure to bullies; this may limit the risk of you or one of your family members becoming a victim and may make it easier to identify the bully if someone is victimized.
Own your online presence. When available, set the privacy and security settings on websites to your comfort level for information sharing; it's OK to limit how you share information.
Safer for me, more secure for all. What you do online has the potential to affect everyone – at home, at work and around the world. Practicing good online habits benefits the global digital community.
Post only about others as you would have them post about you.
Raise Good Digital Citizens
The Internet is a great place to learn and get entertainment, but it can pose dangers if precautions are not taken. Allowing free access puts your family members, your computer and your personal data at risk. It is important for parents to remain positively engaged, paying attention to the online environments their children use and showing interest in their friends. Additionally, parents are encouraged to support their children's good choices online and expand their autonomy when developmentally appropriate. Keep a clean machine by protecting all family computers with security anti-virus, anti-spyware and firewall programs that are set to update automatically, keeping operating systems, web browsers and other software current and backing up computer files on a regular basis.
For more information and tips mentioned above, visit NCSA's website. As always, let us know what you think on Twitter and Facebook, and be sure to check out our Tumblr for the latest industry news stories.