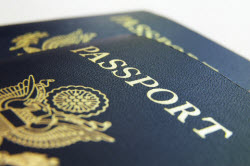 Summer is here and that means it's travel season. What most people don't think about when planning their vacation is how to keep their identity, PII and financial information secure while they're away. Cyber criminals and identity thieves are opportunistic and will be on the lookout this summer to strike while the iron is hot. Make sure to protect your personal assets by considering these five security tips while vacationing this summer:
Be wary of travel sites and deals. When you're planning a trip, be extra cautious of how and where you book your hotel and flights. Watch out for email phishing scams in your inbox with enticing flight deals and malvertisements, online advertisements that are malicious once you click on them, for exotic travel accommodations. Use trusted, well-established websites to book your travel.
Leave PII documents at home. If you're traveling abroad, bring your passport and driver's license. The extra documentation, like your social security card and birth certificate, should remain at home to avoid loss or theft. The less information you have with you, the less likely you are to forget it in a hotel room, on a flight or in another insecure area.
Never hook up to free Wi-Fi. With man-in-the-middle attacks becoming more and more common, there's never a good reason to connect to free Wi-Fi in a café, airport or elsewhere. Turn off the auto-connect to Wi-Fi feature on your mobile device so your device does not link up to an insecure network without you knowing. A great alternative is to use a free VPN app, like TunnelBear, to connect to a secure network.
Do not access personal websites in a public setting. Cyber criminals can use technology to track your keystrokes and steal your password information. When you're in public, avoid visiting websites that host sensitive information and that require a personal login.
Post pictures to social sites after your vacation. While it can be tempting to brag about your vacation on social media sites while it is happening, wait until you get home. Criminals may be on the lookout for vacation photos or other social media posts to confirm when a person is not at home. They then can take advantage of this information to break into your home, as the theft may go unnoticed while you are away.
Do you have any steadfast security rules you follow before heading out on vacation? Let us know on Facebook, Twitter or LinkedIn!