This month we focused big-time on preparing for our upcoming cyberSAFE webinar series and survey. Among the planning and research, we found plenty of time to take part in a few themed industry weeks, and we even found some time to relax! This is what we were up to last month:
Privacy Awareness Week
We were so excited to join in conversations and efforts around Privacy Awareness Day this month, an initiative of the Asia Pacific Privacy Authorities (APPA) to promote online privacy. In honor of the day, we published a blog post featuring some of our favorite privacy resources, tips and more. Did you do anything to participate?
National Small Business Week
We kicked off Small Business Week this May by announcing our upcoming cyberSAFE webinar – all about small business security during different stages of company growth. Throughout the week we shared security tips for small businesses, took part in Twitter chats, and gathered ideas for our webinar discussions. We were happy to honor all the small businesses out there that are doing a great job with their security and privacy efforts!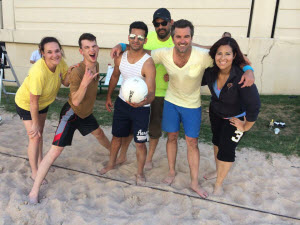 Volleyball Tournament at CSID HQ
Our Austin office knows how to have fun! We took a break one sunny Wednesday this month for a volleyball tournament. Who doesn't love a little exercise and Vitamin D? Scroll through all of the photos on our Facebook page.
Joe Ross in the Huffington Post
Joe Ross shared a fascinating new article in his Huffington Post column about "The Dark Web and the Power of Anonymity." Catch up on his Huffington Post column for more industry related articles.
What's Coming Up in June
We're looking forward to hosting another edition of our cyberSAFE webinar series on June 10th – this one is on small business security. Register today to attend. We'll be releasing an infographic, whitepaper and more on the topic after the webinar airs. We'll also be hosting our next #cyberSAFEchat Twitter chat on the same topic, this June 9th at 1 PM CT. Join us by following and tweeting using the #cyberSAFEchat hashtag during the chat. For more information, including Twitter chat questions, visit the CSID blog. Hope to see you there!
Let us know what you're most looking forward to this month on Facebook, Twitter or LinkedIn and be sure to keep up with our Tumblr for up-to-date security news stories.