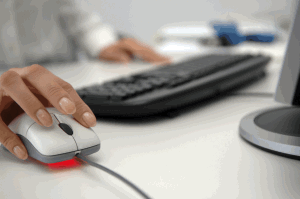 This post is part of our cyberSAFE series focusing on SMB financial and reputational risks. You can learn more about the financial and reputational risks SMBs face during every phase of business growth by registering for our upcoming webinar on June 10th at 12 PM CT.
This cyberSAFE guest blog post comes to you from Emily, the Director of Digital Strategy and Awareness Campaigns at the National Cyber Security Alliance, an awareness group that educates and empowers our digital society to use the Internet safely and securely at home, work and school, protecting the technology individuals use, the networks they connect to and our shared digital assets.
Small and medium-sized businesses have become bigger targets for cybercriminals. Why? Because the bad guys know small businesses (SMBs) have fewer defense resources than large enterprises and hold just as much personal and financial information.
Even if your company doesn't have the financial capacity or bandwidth of a large corporation, you can still protect your business, employees and customers from threats.
Here are 6 ways to make your small-to-medium-sized business safer and more secure:
Assess your risks. Take an inventory of your current business practices: What steps are you taking to secure your devices, networks, email, Wi-Fi, etc.? How do you protect the data you collect?
Monitor threats. You don't need to be a cyber security expert to ensure that your business is protected, but it's critical that you understand the online threats to your company's network. Awareness of key threats—like spam and phishing—will help you employ practices and behaviors that limit your company's risk.
Implement a cyber security plan. The Federal Communications Commission created the Small Biz Cyber Planner to help businesses evaluate their current cyber security state and create a plan.
Train your employees. It's important for employees to understand basic cyber security hygiene, including keeping a clean machine, following good password practices, backing up their work, not clicking on suspicious links and speaking up if they notice strange activity on company computers. A good way to start the conversation is with STOP. THINK. CONNECT., the national cyber security education and awareness campaign, where you can download free tip sheets, posters and other resources.
Protect your customers. Following a few simple practices can help protect your business from incurring expensive and dangerous data breaches, and give your customers piece of mind.

Have (and follow) a privacy policy – your website should have a privacy policy that explains what customer information you collect, and how you store and use it.
Know what you have – you should be aware of all the personal information you have about customers, where you store it, who has access to it and how to protect it.
Keep the customer data you need and delete what you don't.

Report cyber attacks. If your business has been victimized, you should notify the appropriate authorities. Learn what organizations you should contact on StaySafeOnline.org.
For more information about making your small biz cyber-secure, check out the National Cyber Security Alliance's Business Safe Online section.