Now that holiday season is in full swing and 2013 is coming to a close, we're spending these last few months reviewing our successes and being proactive – preparing for another great year ahead. And beyond that, we're continuing to develop new technologies, share our expertise and get out in the community. Take a closer look at what we were up to in November, and see what we have in store for December.
Holiday Season Brings Increased Security Risks
We spent much of November educating individuals and businesses about the security risks that come during the holidays, especially when it comes to holiday travel and online holiday shopping. Does your business have an online store? Here are our top 6 tips to prepare your online shop for a busy – and secure – holiday season. Look for more holiday tips and discussions throughout the month of December.
Introducing: ETI
Over the course of the year we've been rolling out a new enterprise product, Enterprise Threat Intelligence (ETI). And this month, we're excited to finally showcase ETI in a new animated video! Watch the short video to see what ETI is all about. What do you think?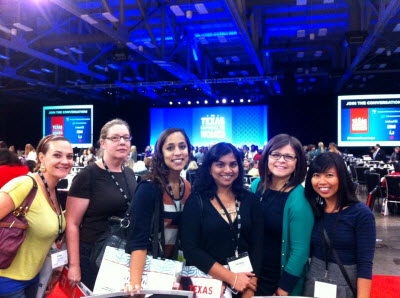 Texas Conference for Women
We find that boosts of inspiration are valuable and motivating. A group from CSID's Austin HQ got that boost at the Texas Conference for Women, where we were not only inspired, but also moved by all the support for women entrepreneurs and women in technology. We were honored to be in a room among such smart, creative and powerful minds.
More from Joe Ross in the Huffington Post
CSID President Joe Ross contributed another blog post to his column in the Huffington Post: "Understanding Identity Theft." Follow Joe's column and let us know if you have additional tips to share or questions you'd like him to answer.
CSID does Thanksgivukkuh
Each year our Austin office hosts a Thanksgiving potluck, and this year was no exception (with the addition of Hanukkah). From pumpkin pies to green bean casseroles, we are still recovering from the food coma.
What We're Looking Forward to in December
December should be a good one. We're expecting another proactive yet busy month, as we'll be educating others about keeping security up during the holidays, reviewing our efforts in 2013 and preparing for a productive new year. Join us on Facebook, Twitter or LinkedIn for more updates.