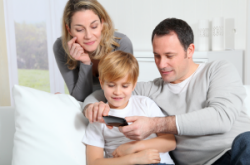 This June, organizations across the country are celebrating National Internet Safety Month, a nationwide effort to spread awareness on Internet dangers and provide resources to educate children, teens and adults on preventative measures.
National Internet Safety Month was passed as a resolution in 2005 by the U.S. Senate to raise awareness of the need for online safety, especially among children and teens. The Internet safety landscape has changed since 2005, thanks to the rise of smartphones and social media. Now children and teens are connected to the Internet more than ever with mobile devices, putting themselves at higher risk for identity theft and child predators. In fact, 78% of teens now have a cell phone and almost half (47%) of them own smartphones according to Pew Research's Teens and Technology 2013 Report. That's a large increase compared to just 23% having smartphones in 2011. Additionally, teens are connected to tablets just as often as adults.
This constant connection to the Internet means that parents and educators have a responsibility to teach children and teens how to stay safe online, especially on their mobile devices. Here are 5 tips for keeping your child's identity and device free from cyber criminals.
Teach children how to identify email and text phishing scams: Frauds will send you a text or email that looks like it is from a familiar source in order to squeeze personal information out of you. Do not click on any links and never respond with personal information such as your phone number or home address. Personal information should only be given in person.
Don't use public Wi-Fi: Some smartphones may be set to automatically connect to Wi-Fi, giving hackers a chance to steal information from your phone. Show your children how to turn off that setting to avoid using unsafe public hotspots.
Disable GPS identifiers on social media apps: Children and adults alike should turn off GPS identifiers on social media apps, including location stamps on Facebook posts, tweets and Instagram pictures. Geotagged information can compromise privacy and reveal personally identifiable information (PII) to identity thieves.
Prevent mobile malware by downloading credible apps: Mobile malware can slow down your phone's processing abilities, steal your photos, spam your contacts and hack into your email. Help your children prevent malware from getting onto their mobile devices by allowing them to download only credible apps from known app marketplaces.
Protect devices with anti-virus software: Though iOS does not have anti-virus software for mobile devices, Android users can download extra protection for their phone.
What are some additional ways you protect your children and yourselves online? Be sure to share with us on Facebook and Twitter and don't forget to take a look at our blog post "5 pieces of information kids should not share online" for more child identity theft protection tips.