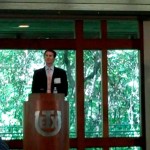 The Center for Identity at the University of Texas at Austin held the first annual ID360 Conference this week. CSID was there  in support of our VP of sales Marc Ostryniec, who presented on how proactive credential monitoring can reduce the risk of fraud that is an inherent problem when employees mishandle company credentials or customers have poor password habits. People truly are the weakest link in any company's security system.  
The most advanced security measures can be unraveled through everyday human error. In fact, some of the most recent security breaches began with employees simply opening an email containing a virus. But businesses can't operate without humans, meaning proactive credit and security monitoring is crucial. Businesses that neglect to proactively monitor for security breaches or issues leave themselves open to a wide range of security threats that can impact their customers and ultimately, the bottom line.
Marc opened his presentation with this compelling statistic from Trusteer: 73 percent of consumers reuse their online banking login and password with nonfinancial websites. The reuse of login information increases the possibility that if one website gets hacked, other locations where its customers conduct business or interact online can also be accessed using that same information. In many cases, the stolen login information can even access a work database or server, leaving many businesses vulnerable without them realizing they are under attack.
For more information about proactive credential monitoring, read Marc's conference paper. Read more about the ID360 Conference and Marc's presentation in the Austin-American Statesman, and check out the #ID360Conference Twitter hashtag for key points from the event.